We Are Family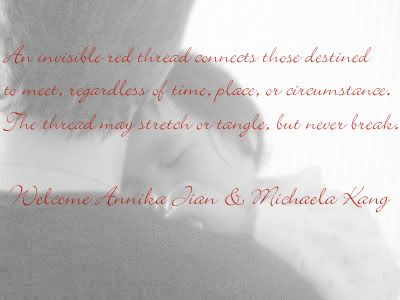 I have been doing some thinking since the recent addition to the Erskine Clan. First, I'm thrilled to have two beautiful new cousins...they are blessed to call such a wonderful person their mother (though I haven't forgiven you completely Jane for the Jellybeans in my hair as a kid).
I think of my own mother, the eldest of the Erskine sisters, who was advised that she should think of giving me up for adoption. How different my life might have been if she didn't have the strength to raise a bi-racial child in a time when it wasn't as common. Fortunately I was doubly blessed to be born into a wonderful family that accepted me without a second thought.
In following the adoption of the twins it takes me back to my youth and I think how exciting it will be for them to grow up in and around such love and warmth that the Erskine's have to give. It also reminds me that I need to do a better job being a part of that family...not only to the twins, but to my uncles, aunts and especially my cousins.
From Gaylen on down to now Michaela and Annika, each one of you give so much to me and mean so much to me. We all dealt with the loss of Grandma in our own different ways and it was hard for each us, for me I simply withdrew from life, the family and myself and at some point I realized I wasn't sure I knew which direction to go to get back to where I needed to be. I'm far from where I want to be, but I want to let all of you know I want to be a part of your life....not only as your cousin but as your friend as well.
Will